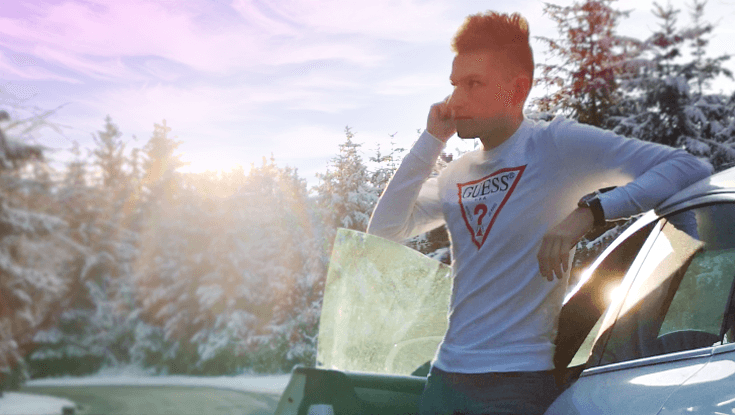 #4 In February I Sum Up January
13. 02. 2019
Peter Is Writing
It has been more than a month since my last article, so, it's time to put my hand to the plough and continue where I ended within the third part of my occasional section – at the end of the year 2018. I put off the mobile phone and start writing.
The Last Day of the Year and My Summary
The 31st December, how unusual day. Everyone is preparing for the evening, sending a new year greeting cards, and I'm sitting in the car with my friends, going to Slovenia and posting the latest article on the phone. Of course, I have everything prepared, so I don't have to spent by that too much time during the way, but I still have a few thoughts going through my head. "Damn it, should I even let this out?" I hesitate a little. Not that I reveal there my whole life, but I just disclose quite a lot of myself, and that's a little … just a strange feeling. But yeah, I've already written it, I say to myself. Click.
Anyway, when I look at it with the passage of time, this article has read the most of you so far, and to be honest, I am pleased that some of you have written me or even said a few nice words in person. Sure, I'm not David Beckham, so thousands didn't write, but you know what? I think it turned out well in the end.
New Year's Eve in Slovenia, Birthday in Holland
But not to run off from the topic. We continue in my journey on the 31st. It led to Slovenia, namely to Ljubljana, and retroactively I must say that it was a really good idea. Super atmosphere, weather even better, I was happy that I started a new year a little bit unusually, and especially that I started travelling again. New Year's Eve abroad has something in it.
Well, now let's continue with the Netherlands. I ordered a ticket to Eindhoven in a kind of hurry during Christmas and to be honest I didn't realise it was my birthday on that day. I just clicked on something it in the Kiwi configurator and after the purchase it was too late to change anything. Somehow, I remembered the flight from Milan on September 11th, circa three years ago. Heavyweights everywhere, exercise dogs, an empty hall… well, I found out "what's going on" on my gate. Yeah, even things like that happen to me sometimes.
Anyway, Eindhoven was great. Industrial Center, Flying Pins, PSV Stadium, de Blob, a stack of stylish cafes, restaurants and more, other interesting places. Only the weather could have been better. But it is true that it was still January, so what should I actually complain about? All the essentials are still in my phone. When there'll be time, I will surely edit it into a short video.
Surprise After Coming Back
Tired after flight I land in Vienna. It is Friday, which is for all mortals the last working day and they call me from the office that I have to come (preferably ASAP) to underwrite one important contract, where my signature is missing. Worst of all, they're probably right. Damn it! I really forgot about it before leaving. I drink a coffee in a rush and with the vision of quick handling I head to Brno. I don't know if my brain was not working after the lack of sleep, or if I was just so naive, anyway, bait eaten with a winch. I open the door, in the middle of a room is a cake, everyone screams "surprise" and I'm really surprised! Pretence was really good, idea even better, thanks for that!
For God's sake, it's so long again. I prefer to quit, so, I don't have to cut the half. Anyway, next time you will learn something from STARTUJEME WEBY, I promise. Au revoir. Yeah and thanks for reading it!
P. P.

Ing. Petr Pokorný
Company Director
"Company founder, lover of good coffee, history and travelling, occasional author, billing optimist. Here on the blog I create my column and with iron irregularity write about stuff, which gets under my hands."
What can you
read?
Categories
Neradi čtete?
Nevadí.
Přijďte k nám
a my Vám články přečteme.
Přejít na kontakt